Luxury Tour with Luxury Cars

Golden Temple Takhat Yatra Tour


This is a tour Package specially designed for people who beleive in luxury.this tour is designed in a luxurious manner. Entire trip will be with a private Luxury car and in luxury hotels and resorts.
Duration:
3 Days/4 Nights
"Takhat "
meaning
'Royal Thorn'
but in Sikhism is considered to be Seat of authority related to politico-religious matters affecting the Sikh Community the world over. Who so ever gets baptized as per Sikh Maryada is supposed to visit all the Takhats to understand, contribute and live as per
SIKH A1ARYADA
.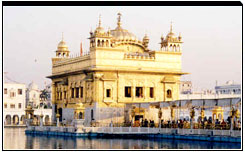 Day 01
:Jalandhar - Kiratpur Sahib - Amritsar
Depart for Amritsar. Enroute visit Gurudwara Kartarpur Sahib. Arrive Amritsar 6- visit Golden Temple 6- Akal Takhat constructed by Sixth Guru Sri Hari Gobind Singh as a seat of temperal authority symbolizing the unity of spiritual and temporal life in 1609. Enroute visit Gurudwara's of historical importance. Rest of the day at leisure and in the evening attend Rehraas and Sukhasan ceremony and see the beauty of Golden Temple under star lit night.
Day 02
:Amritsar - Talwandi Sabo
Visit Gurudwara Alamgir. Guru Gobind Singh arrived here disguised as the Pir ofUch and carried a palanquin by Bhai Daya Singh and Man Singh and the two Afghan brothers Ghani Khan and Nabi Khan. Here he discarded the palanquin and took a horse which a Sikh resident of Alamgir, Bhai Naudha, presented to him. A Manji Sahib was later established where the Guruji had stayed. The shrine is still called GurudwaraManji Sahib Patshahi Dasvin.
This Takhat is situated in Bathinda district in Punjab. This was the place where Guru Govind Singh Ji, with the help of Bhai Mani Singh, complied Guru Teg Bahadur ji s bani into Guru Granth Sahib
Arrive Talwandi Sabo for an overnight stay.
Day 03
:Talwandi Sabo - Anandpur Sahib
Situated on the left bank of the river Sutlej, Anandpur Sahib, the abode of peace with its numerous Gurudwaras stands out in picturesque relief against the Naina Devi mountain range. This was the place where Guru Gobind Singh Ji baptized PANJ PAYARAS to create KHALSA PANTH Overnight atAnandpur Sahib. Enroute visit Gurudwara Dukhniwaran Sahib at Patiala and Gurudwara Sirhind located at Fatehgarh Sahib.
Day 04:
Anandpur Sahib - Jalandhar
Depart for the return journey to Jalandhar and visit Gurudwaras of historical importance .
Golden Temple Takhat YatraTour Reservation Form