India Tour Package
North India Pilgrimage Tour with Luxury Cars
Duration: 13 nights / 14 days
Places Covered: Delhi - Jaipur - Agra - Varanasi - Bhubaneshwar - Puri - Delhi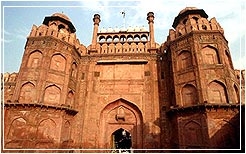 Our North India pilgrimage tour is specially designed to cover all the major pilgrimages in North India. Book This tour now and grab a best deal on pilgrimage tours in India.
Day 01: Delhi
Meet our representative at the airport welcoming you to India with fresh flower garlands. Transfer to the hotel.
Day 02: Delhi
Explore the city of Delhi visiting with luxury cars RedFort, Jama Masjid, Chandni chowk, India Gate, Govt. Buildings, Humayun's Tomb and Qutab Minar. Overnight in Delhi.
Day 03: Delhi - Jaipur (260 kms)
Travel by road with luxury cars to Jaipur reaching by lunch time. Afternoon city tour to see the Hawa Mahal (Palace of Winds), the Observatory, City Palace and the Markets. Overnight in Jaipur.
Day 04: Jaipur
Early morning visit to the Fort of Amer. Ride up to the gates on elephant back and explore the great fortress palace buildings. Afternoon free at leisure. Overnight in Jaipur.
Day 05: Jaipur - Agra (240 kms)
In the morning continue by road via Fatehpur Sikri to Agra with luxury cars ( 240 kms 6 hrs). In the evening visit the exquisite Taj Mahal and relish the spectacular sight at sunset. Overnight in Agra.
Day 06: Agra
Full day city tour of Agra. Visit Sikandra and Agra Fort. You will also have the chance to visit the shops of marble inlay and observe craftsmen at inlay work. Drive with luxury cars for Varanasi.
Day 07: Agra - Varanasi (565kms)
Morning arrive Mughal Sarai (Varanasi) and transfer to hotel. Tour to Sarnath. Overnight in Varanasi.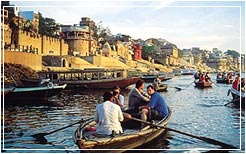 Day 08: Varanasi
Early morning boat excursion on the holy river Ganges. Evening tranfer to Bhubneshwar by road with luxury cars.
Day 09: Varanasi - Bhubaneshwar (980 kms)
Morning arrive to Bhubaneshwar and transfer to hotel. Afternoon city tour visiting Lingaraj Temple, Dhaula Giri, Rajrani Temple, Parashurameshvara, Mukteshwara Temple and Vital Deul Temple. Overnight in Bhubaneshwar.
Day 10: Bhubaneshwar - Puri (60 kms)
Drive with luxury cars to Puri visiting en-route suntemple at Konarak Temple. Overnight in Puri.
Day 11: Puri
Morning visit Jagannath Temple. Afternoon at leisure. Overnight in Puri.
Day 12: Puri
Morning free after breckfast drive with luxury car to Delhi.
Day 13: Puri - Delhi
Drive with luxury cars reach at delhi and transfer to hotel. Overnight in Delhi.
Day 14: Delhi
Morning transfer to airport for return flight.
Send On-line Query
Char Dham Yatra Tours with Luxury Car
Duration: 9 nights / 10 days
Places Covered: Haridwar - Syana Chatti - Uttarkashi - Rudraprayag - Kedarnath - Rudraprayag - Badrinath - Haridwar
Day 01: Haridwar
Start the Char Dham Yatra with arrival at Haridwar, Check in Hotel. Later we shall take you for a visit to the Har-Ki-Pauri, enjoy the AARTI in the evening. Later back to hotel for overnight stay at the hotel.
Day 02: Haridwar to Syana Chatti (240kms/7hr)
Drive to Syana Chatti via Mussoorie. Check in Hotel at Syana Chatti.
Day 03: Syana Chatti - Yamunotri - Syana Chatti (5kms by Road one side)
Drive with luxury car to Hanuman Chatti, trek start to Yamunotri & Back. Overnight stay at Syana Chatti.
Hanuman Chatti: The confluence of Hanuman Ganga & Yamuna River.
Yamunotri Temple: Maharani Gularia of Jaipur built the temple in the 19th Century. It was destroyed twice in the present century and rebuilt again.
Surya Kund: There are a Number of thermal springs in the vicinity of the temple, which flows into numerous pools. The most important of these is Surya Kund.
Divya Shila: A rock pillar, worshipped before entering the Yamunotri Temple.
Day 04: Syanachatti to Uttarkashi (137kms/4hr)
Drive with luxury cars to Uttarkashi via Barkot. Check in Hotel, Night Halt.
Uttarkashi: Situated at the bank of river Bhagirathi. The temple of Lord Vishwanath is located here where a massive iron trident is erected. The other important temples situated here are Ekadash Rudra, Bhairav, Gyaneshwar and Goddess Kuteti Devi.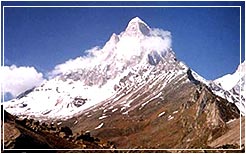 Day 05: Uttarkashi - Gangotri - Uttarkashi ( 200kms/7hr)
Drive with luxury cars to Gangotri and back, overnight stay at Uttarkashi.
Gangotri Temple: The temple, constructed by the Gorkha General Amar Singh Thapa in the 18th Century, is situated on the right bank of Bhagirathi. Submerged Shivling: Submerged in the river, this natural rock Shivling is the place where, according to mythology Lord Shiva sat when he received the Ganga in his matted lock. It is visible in winter months when water level decreases.
Kedar Ganga Sangam: Around 100 Yards from the Ganga Temple flows the river Kedar Ganga. Starting from the Kedar Valle, this river meets the Bhagirathi on its left bank.
Gaumukh: The Gaumukh Glacier is the source of Bhagirathi & is held in the high esteem by the devout that do not miss the opportunity to have a holy dip in the BONE CHILLING icy water. It is 18 km from Gangotri by trek.
Day 06: Uttarkashi to Rudraprayag (175kms/6hr)
After early breakfast, drive with luxury cars to Rudraprayag. Check in Skylark Resort, night halt.
Rudraprayag: It is the confluence of river Mandakini and river Alaknanda.
Temples: Rudranath and Chamunda Devi, Koteshwar Temple (3 Kms).
Day 07: Rudraprayag to Kedarnath (75kms by road & 14kms Trek one side)
Drive with luxury cars to Gaurikund, Trek start from Gaurikund to Kedarnath. Check in Hotel.
Gaurikund: At a distance of 5 kms from Sonprayag and at an altitude of 1982 meters, one can take bath in the hot water pond here and visit the Gauri Temple. This is the place where Goddess Parvati meditated to attain Lord Shiva. It is the base for a trek to Kedarnath.
Kedarnath: The Kedarnath shrine, one of the 12 Jyotirlingas of Lord Shiva, is a scenic spot situated, against the backdrop of the majestic Kedarnath range. Kedar is another name of Lord Shiva, the protector and the destroyer. According to legend, the Pandavas after having won over the Kauravas in the Kurukshetra war, felt guilty of having killed their own brothers and sought the blessings of Lord Shiva for redemption. He eluded them repeatedly and while fleeing took refuge at Kedarnath in the form of a bull.
On being followed he dived into the ground, leaving his hump on the surface. The remaining portions of Lord Shiva appeared at four other places and are worshipped there as his manifestations. The arms appeared at Tungnath, the face at Rudranath, the belly at Madhmaheshwar and his locks (hair) with head at Kalpeshwar. Kedarnath and the four above-mentioned shrines are treated as Panch Kedar.
Day 08: Kedarnath to Rudraprayag (14Kms Down Trek & 75kms/3hr by Road
Trek down to Gaurikund from Kedarnath. Drive with luxury cars to Rudraprayag from Gaurikund. Check in Skylark Resort at Rudraprayag. Night Halt.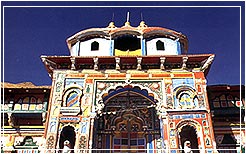 Day 09: Rudraprayag to Badrinath (165kms/5hr)
Drive with luxury cars to Badrinath via Joshimath. Check in Skylark Camp Resort / Hotel, Night halt.
Joshimath: Adi Guru Shankaracharya, who came all the way from Kerela in the 8th Centaury A.D, perform penance under a tree here and after getting enlightenment, established a Math (religious centre), known as "Joshimath". The name Joshimath is derived from it. Temple of Narsingh and Nav Durga are located here.
Badrinath: One of the' Four Dhams. is one of the most celebrated pilgrimage spots of the country and is situated at an elevation of 3,133 meters, guarded on either side by the two mountain ranges known as Nar & Narayan with the towering Neelkanth Peak providing a splendid backdrop. This revered spot was once carpeted with wild berries. Thus the place got the name "Badri van", meaning "forest of berries". Overnight hotel.
Day 10: Badrinath to Haridwar (320kms/9hr)
Drive with luxury car to Haridwar enroute visit Srinagar, Devprayag & Rishikesh. On arrival, transfer to Hotel. Night Halt.
Send On-line Query